The number of deaths involving Covid-19 has now exceeded 3,000 in Wales, according to the Office for National Statistics.
There were 166 deaths involving Covid registered in the latest weekly figures – 20% of the total of all deaths.
Meanwhile, another 31 deaths linked to hospital infection outbreaks have been reported by Cwm Taf Morgannwg health board.
They include 17 deaths at the Princess of Wales in Bridgend.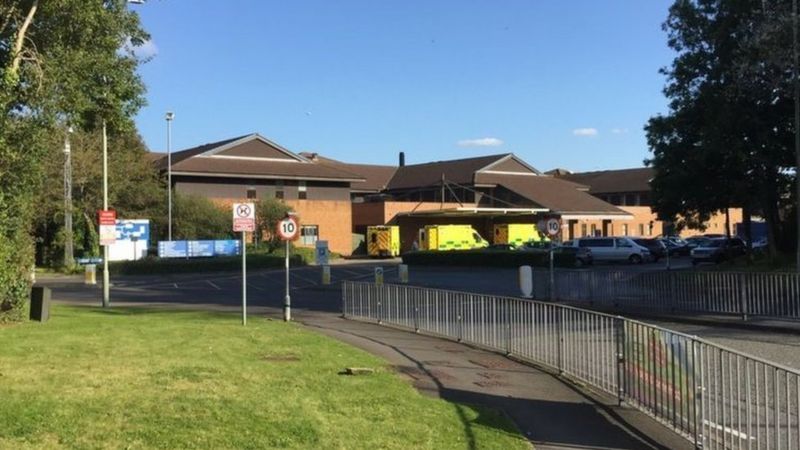 BBC
Covid-19 hospital infections
Deaths reported up to 16 November
61Royal Glamorgan Hospital, Llantrisant

34Prince Charles Hospital, Merthyr Tydfil

57Princess of Wales Hospital, Bridgend

6Maesteg Hospital
Source: Cwm Taf Morgannwg health board
Another nine deaths occurred at Prince Charles hospital in Merthyr and five at the Royal Glamorgan hospital, in the week up to Monday.
Deaths overall in Wales were a third above average in the week to 6 November, according to the ONS.
So-called excess deaths – a key indicator of how the pandemic is progressing – shows there were 207 deaths more than the five-year average.
This is 33% higher than average, which is the highest proportion in England and Wales after north west England for the latest week.
Deaths involving Covid-19 were up 45 compared to the number registered the week before.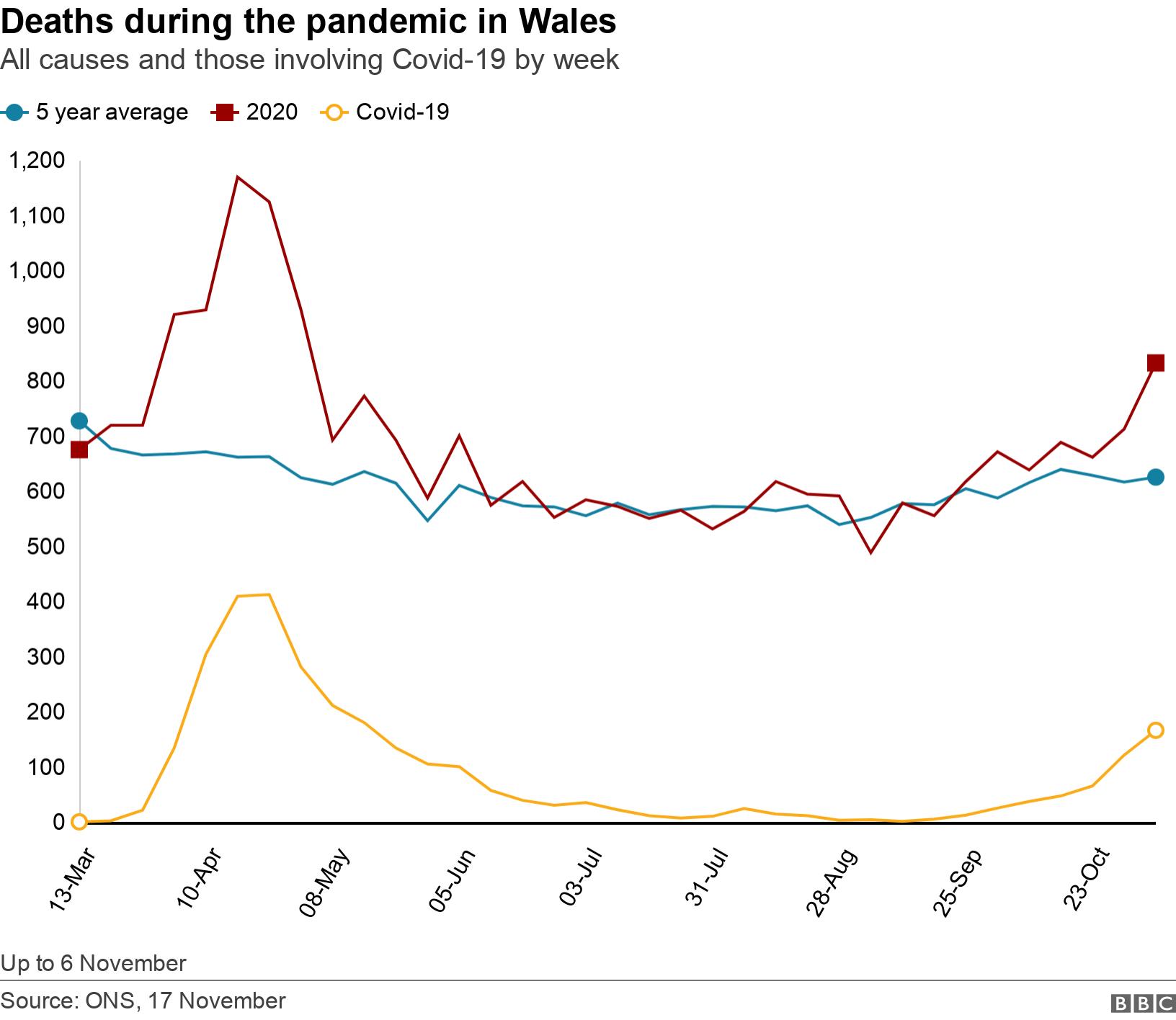 There were 62 deaths registered across the Cwm Taf Morgannwg health board area involving coronavirus – including 53 in hospital.
There were also 49 deaths in the Aneurin Bevan health board area, 24 in Swansea Bay, 12 in Betsi Cadwaladr and 12 in Cardiff and Vale.
There were five deaths in Hywel Dda and two hospital deaths involving Powys residents.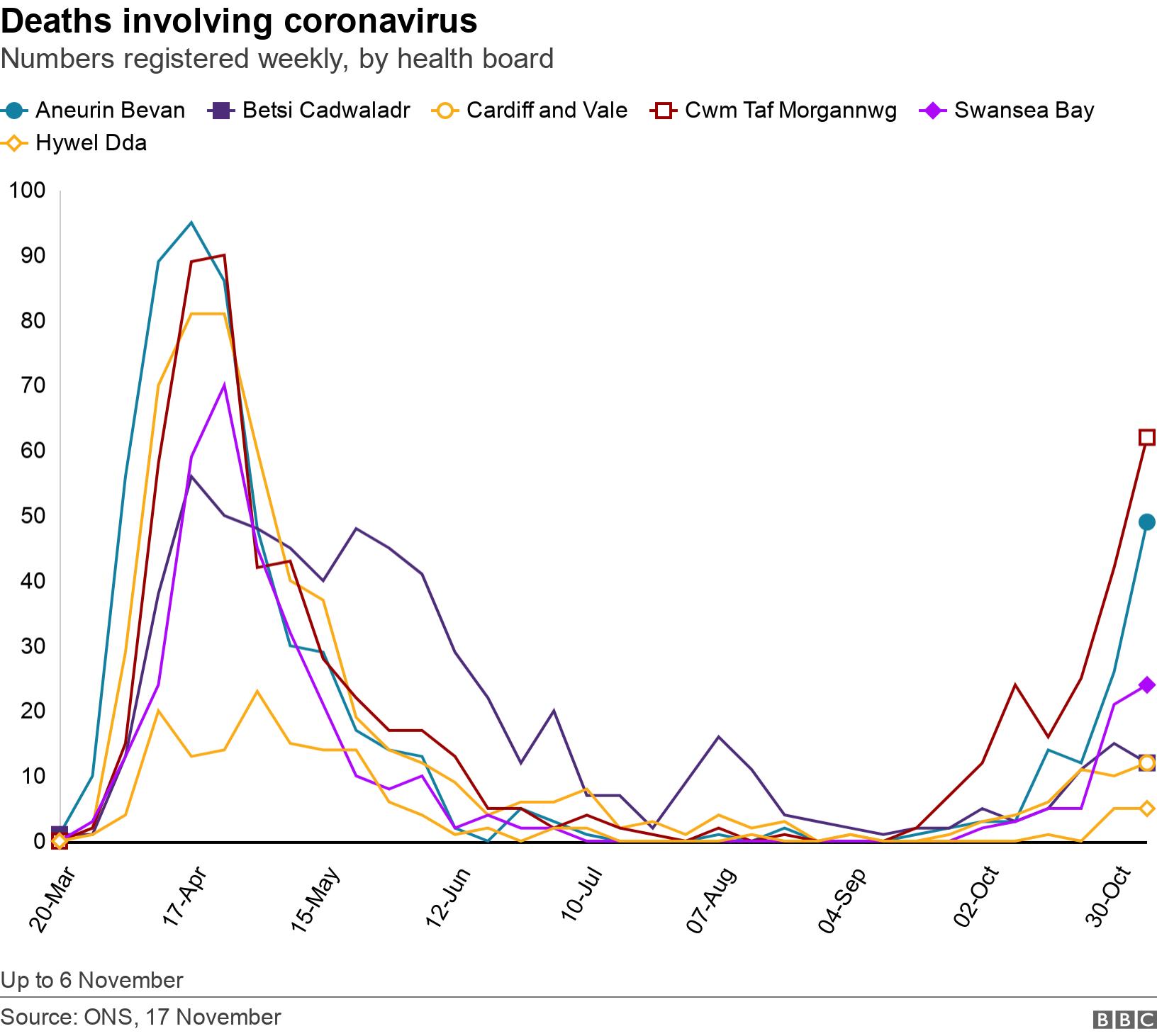 The total number of Covid deaths up to and registered by 6 November was 3,050
When deaths registered over the following few days are counted, there was a total of 3,119 deaths
Rhondda Cynon Taf (RCT) with 433 deaths has now overtaken Cardiff (430) with the largest number of deaths
There were 23 deaths involving confirmed or suspected Covid-19 in care homes in the latest week – the highest number in five months
RCT's death rate – when population size is taken into consideration – is the third highest across England and Wales, at 180 deaths per 100,000, while Merthyr Tydfil has now moved into the worst 10 areas.
'There are people saying 'is Covid real?'
Iris Davies, 69, from Ynyshir, Rhondda, died recently from Covid-19 and her granddaughter Mollie Evans said it was like losing a best friend, describing her as someone who "loved life and lived her best life".
"She was the most family-orientated person, the glue of our family – she was also the most outgoing person, a social person before all this happened," said Molly, 23.
"We went to watch musicals, she came to watch me at the eisteddfod, at football."
Iris died at the beginning of the firebreak lockdown after losing her best friend to coronavirus two months before, so Molly says her grandmother had talked about death.
The family did their best to protect her and take all the right precautions, but Molly believes the geography of the Rhondda community and its close-knit nature brings people closer together, and this may be a factor for its high death rate.
"When it sinks in, it's devastating," she said. "It's hard to accept because I log on to social media and there are people saying 'is Covid real?'
"I've seen her with my own eyes, on a ventilator. Between breaths she was still trying to make a joke of things. She was fighting so much."
Medical statistician Dr Rhian Daniel, of Cardiff University, told BBC Wales' Newyddion programme that more detailed analysis was needed, but the number of public-facing jobs, including care work, as well as low-paid jobs could all play a part in the big differences in mortality between places such as Rhondda Cynon Taf and Merthyr and areas such as Pembrokeshire.
"Chance can play a big role, but there are likely to be more structural reasons – occupation might be an important factor," she added.
Deaths counted by ONS are when Covid-19 is confirmed or suspected by doctors, and which occur in all settings – including hospitals, people's homes, care homes and hospices.
England had the highest number of deaths involving Covid-19 with 1,771 deaths in the most recent week, followed by Scotland (206 deaths), Wales (166) and Northern Ireland (82).