Wales is starting to see a "levelling off" of Covid-19 case rates, the country's health minister has said on the final day of its 17-day lockdown.
He said the full impact of the lockdown would not be seen for two weeks yet.
Opposition parties have suggested high case rate areas should have stricter local rules.
The number of patients in Welsh hospitals with coronavirus is now the highest since the height of the pandemic in April.
Latest NHS Wales figures show 1,344 people are being treated in hospital for Covid-19 while 54 of the 163 critical care patients have the virus – with the intensive care occupancy rate beyond Wales' usual 152-bed capacity.
Mr Gething warned cancer, heart and stroke "treatments" could be affected if Covid infection rates surge again.
But he said: "We think we're starting to see a plateauing, a levelling off, in the rates of coronavirus across the country.
"It's still at a high rate which means that there's still a reservoir of coronavirus within our communities."
The Welsh Conservatives want "local measures" to help slow down Covid-19 cases in communities to avoid "such draconian measures as a firebreak lockdown or just a straight lockdown".
"We would also then have targeted testing in areas where we know there's high infection rates to suppress the virus," their health spokesperson Andrew RT Davies told BBC Radio Wales.
And Plaid Cymru said the Welsh Government should show it "has a plan in place" to deal with areas of high infection rates.
"I doubt whether it is right to treat those areas in the same way as we treat some of the areas with very low incidence," said the party's health spokesperson Rhun ap Iorwerth.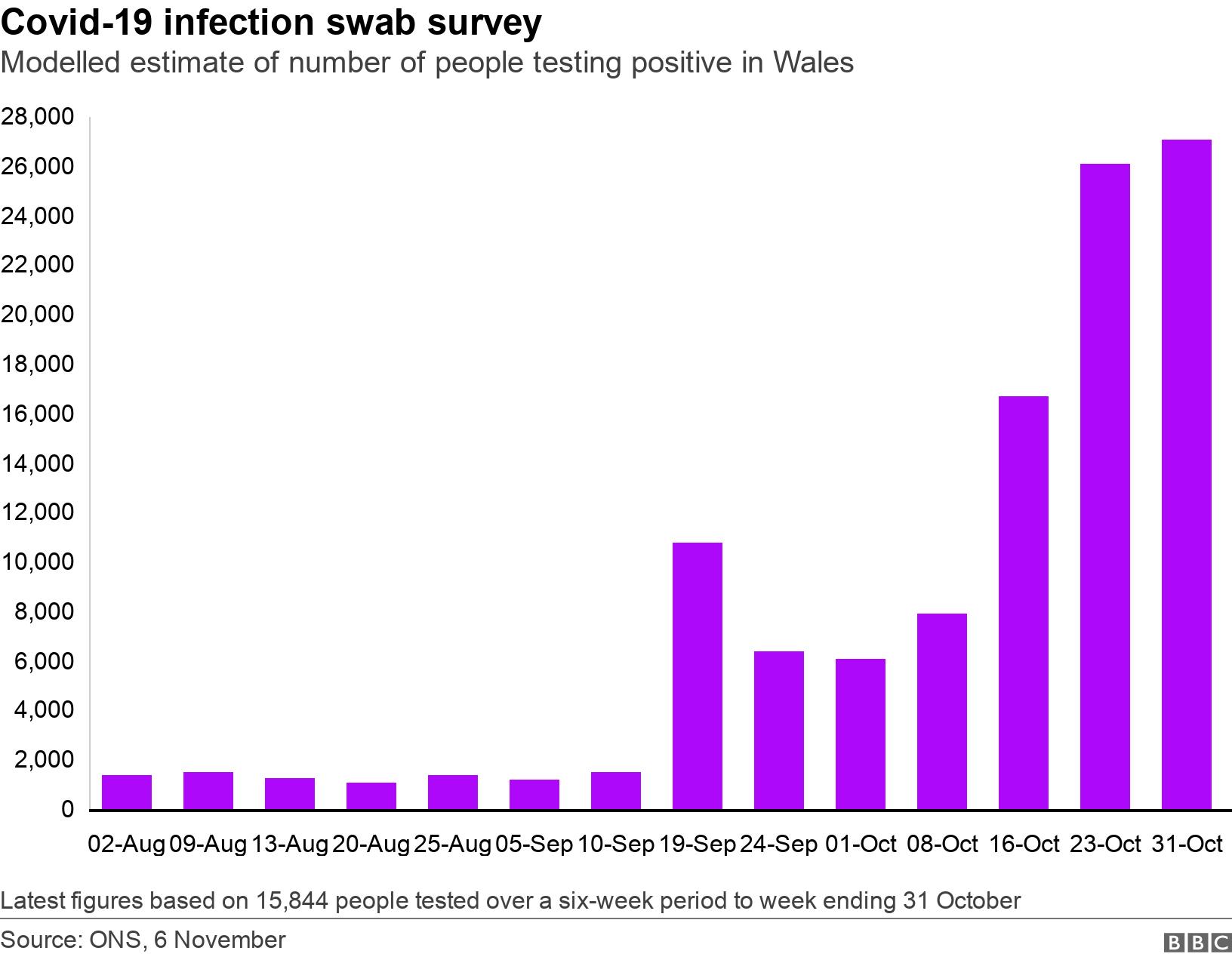 But Mr Gething said: "If we breach trust with the public and extend the end of the firebreak, having been clear it would come to an end, I don't think people would be prepared to trust the government again and go along with what we want people to do."
He thanked the people of Wales for their sacrifice during the lockdown, saying: "We have seen significant reductions in movement, we're confident there's been a reduction in household contact and all of those things will make a difference.
"What I can't do is rule out what we will have to do in the future because that is down to the choices we make."
"We don't want to throw away what we think we have gained in the firebreak," said Mr Gething.
"If we go back to the way the things were before the firebreak, we'd have thrown away all of the sacrifice put together to make the firebreak successful and that would be heart-breaking for so many people who have done the right thing."
Mr Gething warned that if infections surge again "hospitals will become full" then elective surgeries and other "non-Covid care" which was relatively unaffected during this latest lockdown, may be hit.
"It will mean people will be treated in an undignified way, it's about saving as many lives as possible," he said.
"It's to make sure the NHS isn't overwhelmed because, if that happens, then non-Covid care like cancer care, heart, stroke and all of those other treatments will be affected."
"The infection rates we see reported today reflect behaviour from two to three weeks ago," he said.
"That's how long it takes to feed through. We think we will see a dip in the next two to three weeks but we're cautious as we need to see what the evidence is."
Merthyr Tydfil, Rhondda Cynon Taf and Blaenau Gwent have some of the worst Covid-19 infection rates in the UK and, amid calls from Plaid Cymru for widespread testing in high case rate areas, Mr Gething says the Welsh Government was "considering" mass testing.
"Liverpool is a test pilot for the UK," he said.
"We are looking at what might be possible here in Wales to go alongside how we can use our testing resources here."
Mr Gething said the Welsh Government would "formally review" the coronavirus data from across Wales in two weeks' time.
"If we avoid contact with other people and we travel only when we need to, work from home wherever we can, we will build on what has been achieved here over the last 17 days," Mark Drakeford told Sky News.
"That will give us a path through to Christmas without needing to go back into this extraordinary period of restriction."
Mr Drakeford has called on the UK government to make good on its promise for the four nations to meet this week and discuss a single approach to "pool ideas, plan together and have a common approach to the Christmas period".
"The restrictions people have had to live with are incredibly difficult and demanding, and everybody is tired and fatigued of coronavirus," he said.
"If we can offer respite over Christmas that is what we would want to do."