The leaders of eight London boroughs have written to the education secretary asking him to reverse plans to reopen primary schools in some areas.
However, schools in 10 London boroughs are due to remain open.
In the letter, the leaders said they were "struggling to understand the rationale" behind the idea as pupils and teachers moved between boroughs.
The government has said the measure would be reviewed fortnightly.
All primary schools had been due to fully reopen on 4 January but under government plans those in 22 London boroughs will remain closed.
However, schools in the City of London, Camden, Greenwich, Hackney, Haringey, Harrow, Islington, Kingston, Lambeth and Lewisham will open.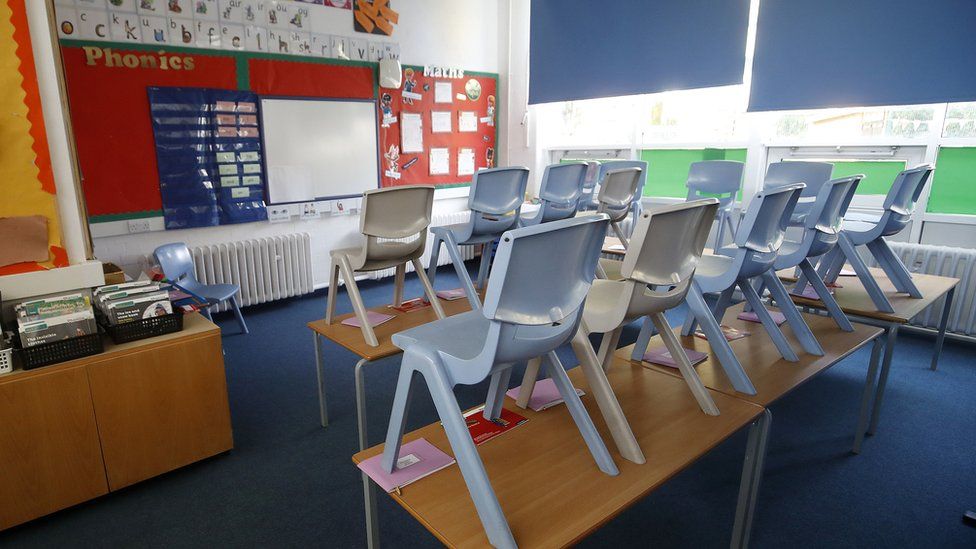 The letter to Gavin Williamson has been signed by leaders of all of those boroughs apart from Kingston and City of London.
It calls for primary school pupils across the capital to "move to online learning until 18 January", apart from vulnerable children and those of key workers.
"The omission of 10 boroughs ignores the deep interconnectedness of our city, and the many thousands of teachers and students that study or teach in one borough and live in another," the letter states.
The council leaders also said they had received legal advice that omitting some councils from the list of areas told to take teaching online "is unlawful on a number of grounds and can be challenged in court".
Richard Watts, leader of Islington Council, told the BBC there "seems to be no reason at all to look at this on a borough by borough basis".
"The entirety of the rest of the government's handling of the pandemic has rightly treated London as a single entity and this is the first time anyone… has tried to implement different public health measures in different boroughs," he said.
Mayor of London Sadiq Khan has called the plans "nonsensical" and has also written to the government calling for a "delay to all London schools opening until mid-January".
Kevin Courtney, joint leader of the National Education Union, said the education secretary "must listen to the leaders of the community, he must listen to school staff and he must listen to the general public who are all telling him that it is not safe to reopen schools on Monday".
The Department for Education has previously said decisions on school closures and openings were based on new infections, positivity rates, and pressures on the NHS.
A spokeswoman for the department said: "In response to concerning data about the spread of coronavirus, we have implemented the contingency framework for education in a small number of areas of the country, requiring schools to provide remote learning to all but vulnerable and critical worker children and exam years.
"Decisions on which areas will be subject to the contingency framework are based on close work with PHE, the NHS, the Joint Biosecurity Centre and across government to monitor the number of new infections, positivity rates, and pressures on the NHS."