Three Scottish council areas are to have tougher coronavirus rules imposed amid concern over an increase in cases.
Fife, Angus and Perth and Kinross will all be moved from level two to level three of Scotland's five-tier system.
It means pubs and restaurants in those areas will no longer be allowed to serve alcohol.
But up to six people from two households in Shetland, Orkney and the Western Isles will be able to meet inside their homes from Friday.
Ms Sturgeon said this was possible because cases in the islands were "very low and sporadic", but warned that people who have travelled from the mainland should avoid in-house mixing for a time to limit the risk of importing the virus.
The existing restrictions in all of the country's other local authority areas will remain unchanged for now – although some level three areas are continuing to see rapid increases in cases and will be closely monitored.
Ms Sturgeon said the "necessary and precautionary" decision to move Fife, Perth and Kinross and Angus to level three from Friday was taken because cases in all three areas were on a "sharply rising trajectory".
The most recent data shows that, in the space of a week, the number of cases per 100,000 of the population has increased by 32% in Perth and Kinross, by 40% in Fife, and by 47% in Angus.
Medical experts had strongly recommended the move to level three as it was felt that level two may not be enough to reverse increases of that magnitude.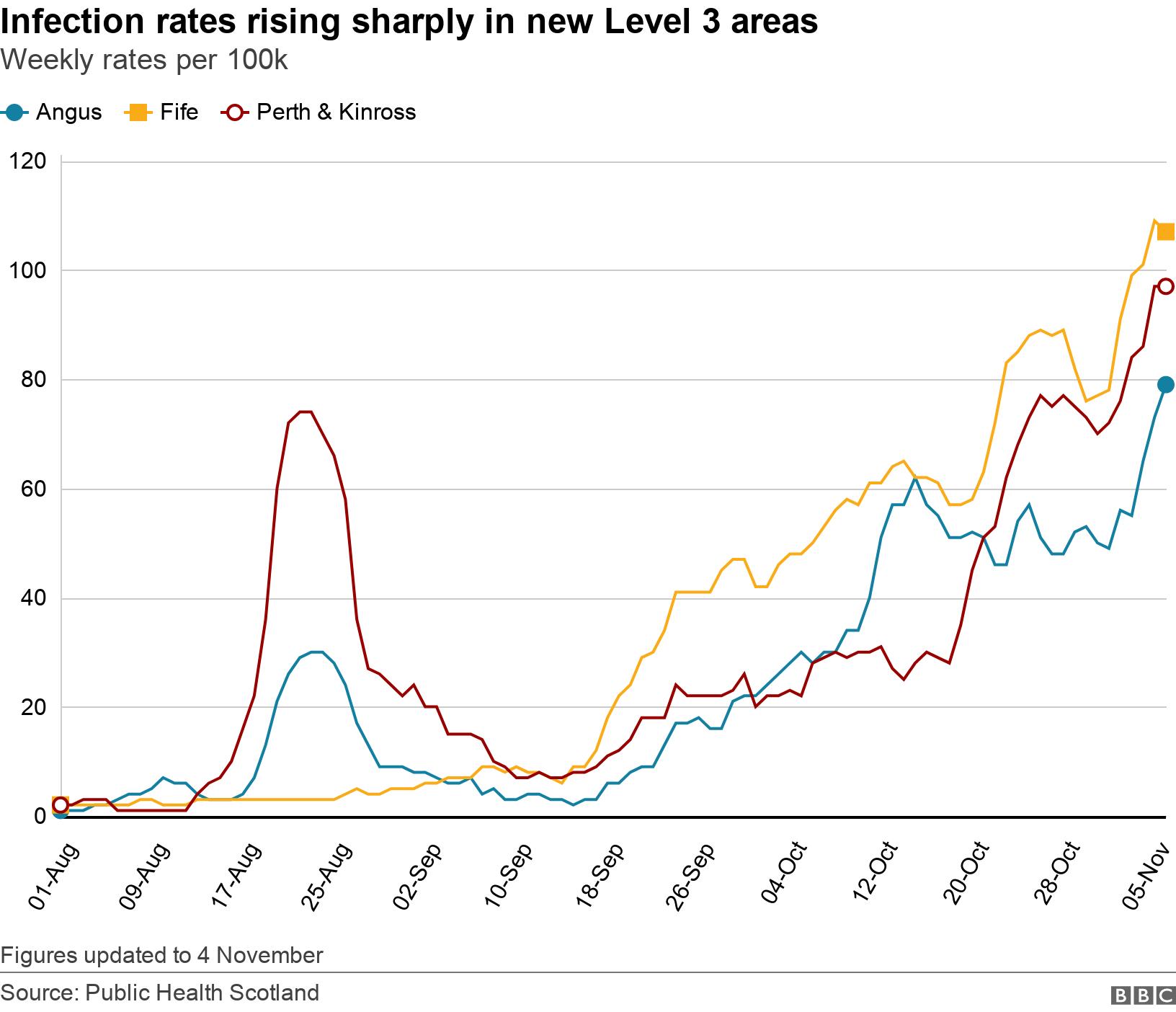 The first minister said: "I know this will be disappointing to residents and businesses in these areas.
"However, by acting now, we can hopefully prevent an even more serious deterioration in the situation."
Councillors David Alexander and David Ross, the co-Leaders of Fife Council, said the decision was not what they had been hoping for, but had been "based on the facts".
But Dean Banks, director and chef at The Haar restaurant in St Andrews, told BBC Radio Scotland's Drivetime programme that the ban on alcohol sales meant he might have to shut his business again.
The former Masterchef finalist said dozens of customers had already cancelled their bookings for the weekend, adding: "We're not sure what's going on. One week we've had alcohol sales, we've boosted revenue again, and taking that away again just rips us in half.
"People are cancelling their tables, they don't want to come or they want to leave it until later date to enjoy it with a glass of wine.
"How does Covid-19 know if someone's drinking a cup of coffee or a glass of wine? What is the difference there? I don't really understand what the difference is."
Alan Mitchell, the chief executive of Fife Chamber of Commerce, described the decision as "a bitter pill to swallow".
Scottish Liberal Democrat leader Willie Rennie, a Fife MSP, said it was "disappointing" that the first minister was unable to say what had caused the spread of the virus there.
He added: "The testing and tracing team don't seem to have that information for Fife. It is important as we need to understand what has gone wrong.
"It is also disappointing that the government did not use the time we had in the summer better to get on top of the virus, to stop it rising with massive increases in testing and with much faster tracing – hunting it down to wipe it out."
Perth and Kinross Council chief executive Karen Reid said she was disappointed by its move to level three, which she said would have a major impact of many people's lives both during the restrictions and in the aftermath.

Which level will your area be in from Friday?
Level 3 – Angus, Clackmannanshire, Dundee, East Ayrshire, East Dunbartonshire, East Lothian, East Renfrewshire, Edinburgh, Falkirk, Fife, Glasgow, Inverclyde, Midlothian, North Ayrshire, North Lanarkshire, Perth & Kinross, Renfrewshire, South Ayrshire, South Lanarkshire, Stirling, West Dunbartonshire, West Lothian.
Level 2 – Aberdeen, Aberdeenshire, Argyll & Bute, Borders, Dumfries & Galloway.
Level 1 – Highland, Moray, Orkney, Shetland, Western Isles.

There are currently no areas of Scotland under the most severe level four restrictions – which would be broadly similar to the national lockdown currently in place across England.
But officials are concerned about a sharp rise in cases in Stirling and Inverclyde, and to a lesser extent South Ayrshire, Renfrewshire and East Renfrewshire – which are all already in level three.
Their advice has been that moving any of those areas to level four would not currently be merited – but the data will be monitored closely on a daily basis.
Ms Sturgeon warned: "Given the severity of the level four restrictions, we will not take a decision to move any part of the country to that level lightly.
"But nor will we shy away from it if we think it necessary to limit the damage the virus can do, or if we think a short period at level four may be less harmful overall than a prolonged period at level three.
"These are difficult decisions and the week ahead is a particularly crucial juncture."
She also said the number of cases appeared to have stabilised but was remaining "stubbornly high" in Glasgow, North and South Lanarkshire, West Lothian and West Dunbartonshire.
The difficult question was therefore whether more time at level three will start to reduce cases there, or whether more action will be required.
However, the first minister stressed that there were encouraging signs in several other level three areas, which could potentially see them being downgraded to level two if that trend continues.
These include East Lothian, Edinburgh, Clackmannanshire, East Dunbartonshire, Falkirk, Midlothian and North and East Ayrshire.
Ms Sturgeon said travel restrictions continued to be "essential" but would remain as guidance over the next week rather than being put into law as she has been considering doing.
Opposition parties have called for greater transparency about the decision-making process, with Scottish Labour leader Richard Leonard saying the announcement "raises more questions" about what it would take for areas to move down a level.
Mr Leonard added: "All the evidence must be shared and it must be persuasive".
The Federation of Small Businesses said the announcement of tougher restrictions in Fife, Perth and Kinross and Angus would cause heartache for many employers, and urged the Scottish government not to move any areas to level four ahead of the crucial Christmas period.