A further 45 people have died with coronavirus taking the total to 2,108 in Wales, according to latest figures.
Public Health Wales (PHW) data also showed 928 more people have tested positive for Covid-19.
A total of 62,284 have tested positive in Wales since the start of the pandemic.
Of the new deaths, 13 were in the Aneurin Bevan health board area, and 10 in both Cwm Taf and Swansea Bay.
There were also five deaths in the Betsi Cadwaladr area in north Wales.
A further 8,297 tests were carried out on Tuesday and of the 809,492 people tested in total, 747,208 were negative.
PHW reports new deaths daily, but these have usually occurred over previous days, sometimes several days ago.
The deaths reported on Wednesday go back to the end of October, as well as 20 deaths which happened last Sunday.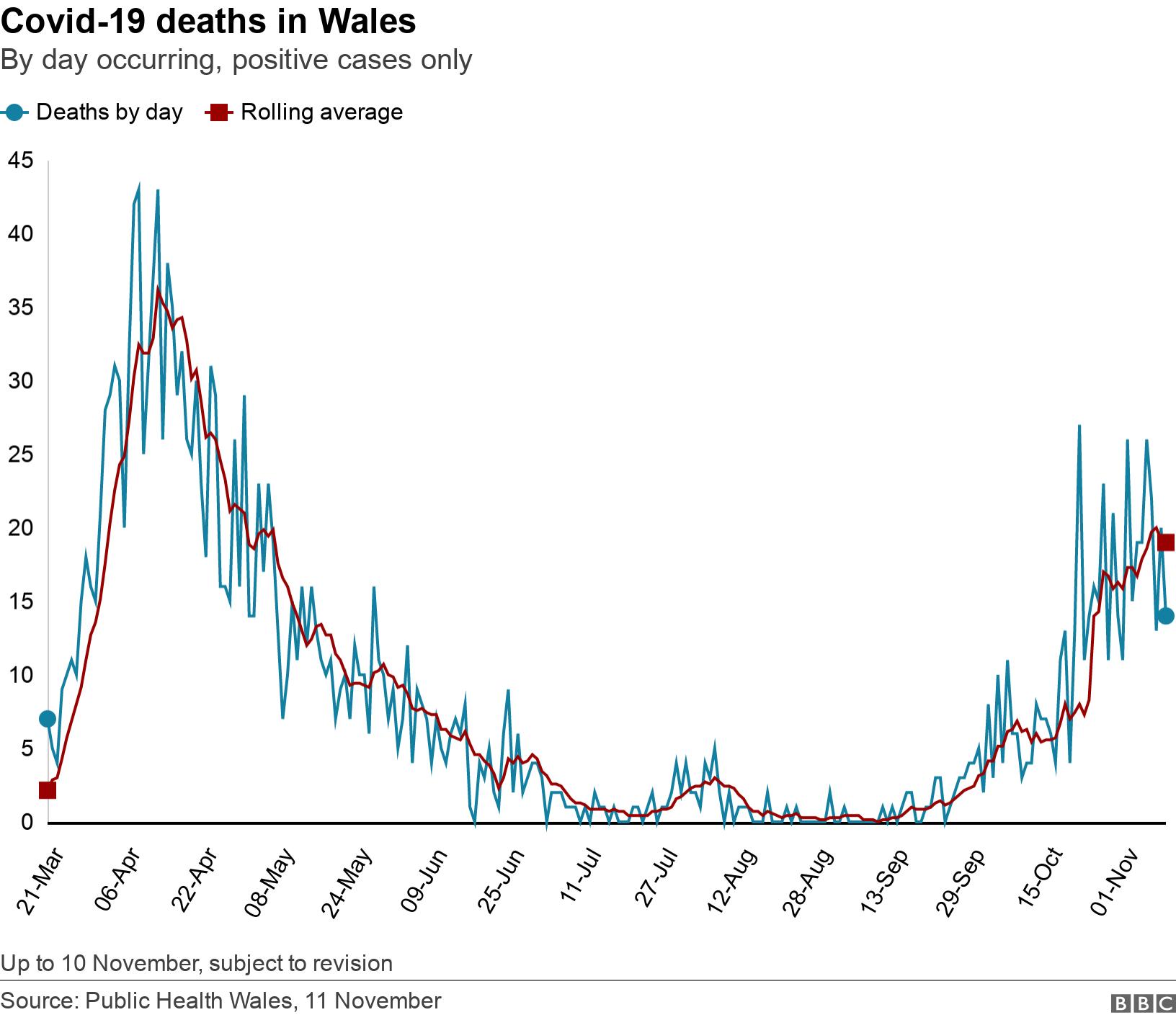 The rolling daily average is currently 19 deaths for the last week.
Case rates in the south Wales valleys have improved in recent days.
The area's seven day average rolling figure is now 497.3 cases per 100,000 people, followed by Blaenau Gwent on 333.5 and Caerphilly on 266.2.
Pembrokeshire has the lowest seven day average figure with 46.9, followed by Anglesey with 48.5.
Rhondda Cynon Taf (RCT) also has a case rate of more than 400 per 100,000 of the population, reporting 967 new positive tests in the past week.
Find out how the pandemic has affected your area and how it compares with the national average:
The postcode search has been updated to replace data for health boards in Scotland with data for local councils. In England, data for county councils has been replaced with data for district councils. Figures for boroughs and unitary authorities remain unchanged.