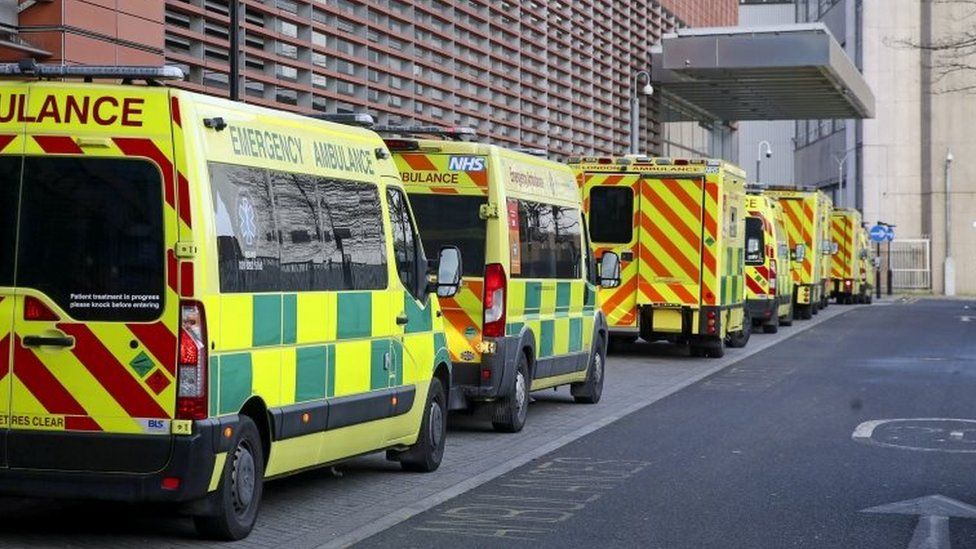 The next few weeks will be "nail-bitingly difficult" for the NHS, hospital bosses have warned.
Staff absences and the new Covid variant are creating a "challenging situation", Saffron Cordery, of NHS Providers, which represents hospital trusts in England, said.
Doctors are urging the public to "take it seriously and follow the rules" to protect the health service.
Meanwhile, new analysis by Imperial College London has confirmed the new variant of coronavirus has a much quicker rate of transmission than the original strain.
Speaking on BBC One's Breakfast, Ms Cordery said the surging transmission and death rates were "incredibly hard to deal with".
"When we are seeing major London trusts saying they are under pressure, that's when we know we're in a very challenging space," she said.
A leading intensive care doctor has urged people to follow restrictions until the vaccination programme is fully rolled out.
Prof Anthony Gordon, of Imperial College, told BBC Radio 4's Today programme: "There is light at the end of the tunnel so I would urge people to hold on for these few more months while the vaccination programme makes that difference and then we can truly get back to normal.
"But we can't overrun the health service because this will just lead to thousands more deaths."
More than three-quarters of England is currently under the strictest tier four – "stay at home" – coronavirus measures, and other parts of the country have joined higher tiers.
Mainland Scotland, Northern Ireland and Wales are under lockdown.


There are also concerns that the added pressures being seen at London hospitals in dealing with the rising number of coronavirus patients have started to spread across the country.
Speaking on Today, Dr Alison Pittard, of the Faculty of Intensive Care Medicine, expressed fears it was "only a matter of time before it starts to spread to other parts of country", adding that "we're already starting to see that".
She stressed it was "really important that we try and stop the transmission in the community because that translates into hospital admissions".
It comes as almost half the major hospital trusts in England are said to be dealing with more Covid-19 patients than at the peak of the first wave in April.
London's Nightingale emergency hospital is ready to admit patients, the NHS has said, while other sites currently not in use are being readied.
Pressure has been so great on some hospitals in London and south-east England that some patients have been moved out of the area.
The new coronavirus variant has driven a big rise in cases, with the worst effects felt so far in London.
Researchers at Imperial College London have now confirmed it increases the R number – the number of people that one infected person will pass on a virus to – by about 0.4 to 0.7.
Prof Axel Gandy, from the statistic section of Imperial College London, told the Today programme this higher rate of infection means that transmission of the disease would have tripled even during England's November lockdown conditions.
"The difference is quite extreme," he said.
"Under the November lockdown conditions, the reproduction rate was in the region of 0.9 and with the old variant that would mean that over two to three weeks, the cases would decrease by about 30%, whereas in the new variant they would triple.
"The number of cases would increase by a factor of three, so there is a huge difference in how easily this virus spreads."
He added: "Since it is spreading more quickly it is even more important that these measures are in place and need to keep in place until a large proportion of the population is vaccinated."
The rollout of the newly approved Oxford-AstraZeneca vaccine will begin on Monday, almost a month after the Pfizer-BioNTech jab.
Second doses of either will now take place within 12 weeks rather than 21 days as had been initially planned with the Pfizer vaccine.
A fireworks and light display to welcome 2021 has taken place over London, but revellers were not able to ring in the New Year in the usual way because of the coronavirus pandemic
The leaders of eight London boroughs are urging the government to delay the reopening of primary schools, saying it is unfair they are resuming classes when boroughs with lower infection rates are not
Ministers say they want to see schools open at the earliest opportunity