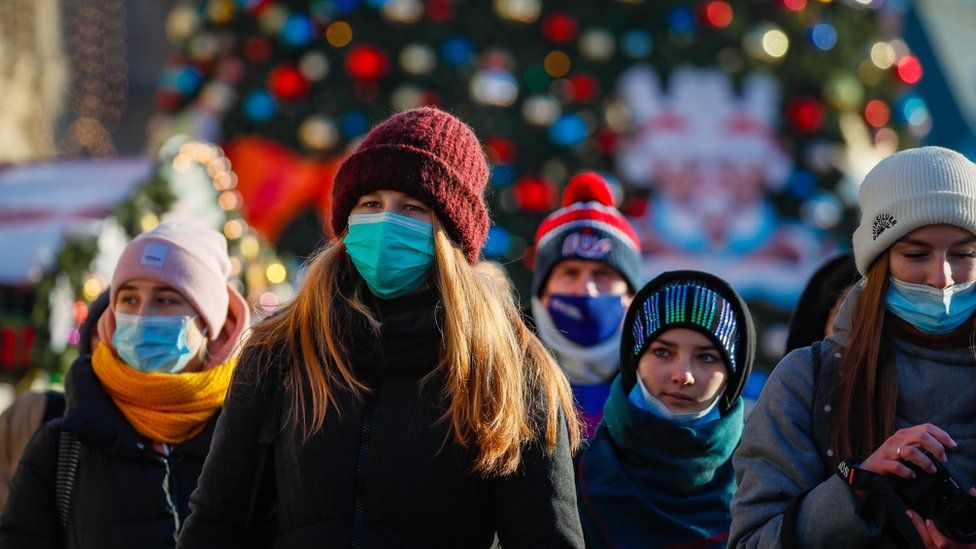 Russian Deputy Prime Minister Tatiana Golikova has revealed more than 80% of excess deaths this year are linked to coronavirus, which would mean more than three times the official death toll.
Official figures say 55,827 people have died of Covid-19 in Russia but excess deaths would raise that to 186,000.
Ms Golikova said mortality in the first 11 months of 2020 had been 13.8% higher than the previous year.
Russian statistics service Rosstat said 229,700 more people had died this year.
Based on the deputy prime minister's announcement, that would mean that more than 186,057 deaths were linked directly or indirectly to coronavirus.
This is higher even than the numbers provided by Rosstat, which puts Russia's number of coronavirus-related deaths at 116,030.
Only the US and Brazil have reported higher fatalities.
Why is the official death toll different?
Russia calculates official deaths from Covid-19 based on the number of post-mortem examinations that list coronavirus as the main cause of death.
However, this means that other deaths linked to Covid-19, which did not list it as the main cause of death, will not have been included.
Coronavirus-linked deaths in Russia were higher in November than at any time this year, with Rosstat putting the number at 35,645, far higher than the 24,333 now confirmed for the previous month. Almost one in 10 deaths last month were in the capital Moscow.
Ms Golikova was adamant the Russian government had never hidden mortality data. "I would like to draw attention to the fact that over 81% of that rise in mortality which took place in that period can be attributed to Covid-19 and the effects of the virus," she said.
The deputy prime minister said December as well as November were worse than previous months because Covid infections were increasing in conjunction with other diseases during the autumn and winter period.
President Vladimir Putin has hailed the country's healthcare system as more effective than the rest of the world in tackling the virus, however hospitals in many areas of the country have struggled to cope with the rise in patients.
Russia has pinned its hopes on the Sputnik V vaccine, which has now been exported to Belarus, Argentina and Hungary, although it has not been approved by the European Union's Medicines Agency (EMA).
Vaccinations with the drug began in Belarus on Tuesday, with seven medics receiving the drug at a clinic in Minsk. Some 700,000 doses have so far been released in Russia, although surveys indicate take-up of the drug could be below 40%.
In other developments around Europe:
The number of coronavirus-related deaths in Germany has passed 30,000
In Spain, where fatalities have topped 50,000, a big consignment of 369,000 doses of the Pfizer-Biontech vaccine finally arrived on Tuesday after being held up by bad weather
Spanish health minister Salvador Illa has revealed a register will be kept of people who refuse to get vaccinated
In France, the mayor of the eastern city of Nancy, Mathieu Klein, has called for a local lockdown: "The situation at Nancy hospital has deteriorated drastically as we now have a 50% rise in Covid patients"
The ex-head of the Dutch public health agency has condemned the country's vaccine strategy as embarrassing. The Netherlands is due to start vaccinating later than any other EU country and Roel Coutinho says the government realised too late that it was not the same as a flu-vaccine drive.