The fun, the strange, and the what-on-earth-is-this? Trending in Beijing is a wrap-up of top stories in Beijing as told by the trending hashtags, local press, and general power of the internet.
Electronics are no longer welcome in Beijing classrooms
No electronics in the classroom! Unless they're mind-reading headbands, of course.
On Nov 7, Beijing authorities issued 10 recommendations for schools in the fight against myopia, which is a large and growing problem among China's youth. Largely blamed on an excessive study culture, and widespread use of digital devices, methods to help reduce nearsightedness in the classroom include promoting a healthy diet among students, regular eye exercise, maintaining a balance between work and rest, and suitable lighting in the classrooms.
But that's not all: the document also recommends banning phones and tablets from the classroom completely and the use of digital learning tools should not exceed 30 percent of total class time. Hello books, my old friend!
The document also prohibits assigning written homework to first and second-grade students. According to the report, if the recommendations are followed, the city should see myopia rates among adolescents drop by 1 percent every year and reach "an acceptable standard" by 2030. In the eyes of the authorities, those rates stand at 3 percent in 6 six-year-olds, less than 38 percent for primary school students, less than 60 percent for junior middle school students, and less than 70 percent for senior middle school students. Progress, yes, but those still seem like particularly high numbers.
Many netizens are concerned about poor eyesight but think these measures may not be enough. "Won't they be playing on the phones when they get home?" asked one. "We need to introduce two PE classes every day," said another. You can follow the "just ban phones" drama under #北京中小学将禁止带手机平板进课堂# (Primary and secondary school students banned from bringing phones to school).
What is it like to be a millionaire in Beijing?
For starters, you could get a flat like this. What a dream come true! Well, you could have before Single's Day, which was when this 5.6-square-meter bachelor pad in the heart of the city sold for a smooth RMB 1,275,500. The property was listed at RMB 470,000 before the auction, with a market value of around RMB 650,000. Luckily for the previous owner, it sold for almost double that. The auction reportedly attracted nearly 30,000 observers on the day and 29 active bidders.
The "old, broken, small" (老破小) bungalow in the Xicheng hutongs appears to be yet another classic example of a "school district property" purchased by a wealthy family that has no intention to live there but needs an address in the vicinity of a highly-ranked school to secure their child enrollment. Saying that, more perceptive netizens are commenting that schools in the vicinity of this Xicheng-located property are not particularly prominent.
"Bought a place for more than RMB 1 million where you can only sleep and eat standing up. How wonderful!" wrote one cheeky user. The other one rightfully wondered, "Wouldn't these families be better off sending their kids to an international school?" Netizens are following the property market we'll never be able to afford under #北京老破小每平米23万# (Every square meter of Beijing's old, broken, small house is RMB 230,000).
Horsehead sculptures return to the Old Summer Palace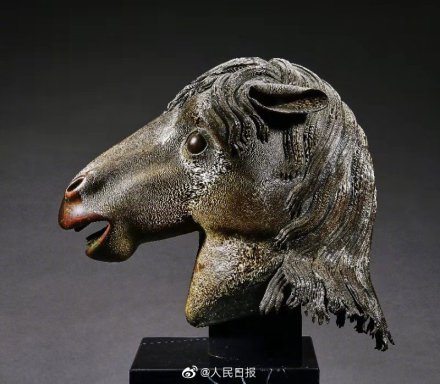 When Anglo-French allied forces looted and burned the Old Summer Palace back in 1860 (#neverforget), one of the many treasures they carried off with them was the bronze horsehead sculpture pictured above. The sculpture is a part of an ensemble of 12 animal heads, representing the 12 Chinese zodiac animals. Made by the Italian Jesuit artist Giuseppe Castiglione, the heads were displayed around a water clock-fountain in the Western Mansions area of the park.
Now the horsehead has finally come home. Since 2007, it has been in the possession of Macao-based business tycoon Stanley Ho Hung-sun, who bought it in a Sotheby's auction for approximately USD 8.8 million, pledging to donate the sculpture to China. It's not clear what Ho's been doing with the sculpture in the 12 intervening years (getting his money's worth probably) or why the object has finally made the trip north now, but here it is.
The horse now joins six other zodiac animals from the collection, including the pig head sculpture, which was also donated by Ho back in 2003.
While most netizens are expressing gratitude to the generous patron, many will not be happy until all are returned to their rightful home: "I can't wait to get all 12 zodiacs!" one commenter exclaimed. Users are expressing that exultation over the horsehead under #圆明园马首回归# (Old Summer Palace horsehead returns).
READ: China's National Football Head Coach Marcello Lippi Steps Down… Again
Images: NPR, Weibo, Asia Times