The 17-day "firebreak" lockdown started on 23 October but what has been its impact?
It covered school half-term and was intended to have an impact on bringing down infections.
First Minister Mark Drakeford said it would be "a short, sharp, shock to turn back the clock, slow down the virus and buy us more time".
Earlier this week he said restrictions had "arrested the speed" of the rise in cases and efforts had made a "real and positive difference" in ensuring the firebreak did not need to be longer and more severe.
But there are concerns that some areas of the south Wales valleys have been seeing increasing case rates, with Merthyr Tydfil, Rhondda Cynon Taf and Blaenau Gwent among the highest rates in the UK.
So have we seen a difference yet? Here are a few areas we should be looking at.
Have case rates stabilised?
The case rates – the number of positive tests per 100,000 people over seven days – help us look at where infections are spreading and how fast.
There have been worries over how the number of cases have risen in the heads of the valleys, with Merthyr Tydfil, Rhondda Cynon Taf and Blaenau Gwent seeing cases start to spike and become among the worst in the UK.
Wrexham and around Swansea and Neath Port Talbot have also seen rises during the firebreak period.
But there are signs of improvement in the most recent sets of figures.
Even Merthyr Tydfil, the worst in the UK at one point this week, has seen its case rate drop back.
How many people's tests are positive?
The proportion of positive tests is something which health officials and ministers have been keeping a close eye on.
Seven local areas in Wales are now above the 20% positivity rate, with nearly a third of all tests in Merthyr Tydfil coming back positive.
The World Health Organization has recommended the positivity proportion of tests should be no more than 5% before areas come out of restrictions.
That figure was also part of the calculations behind decisions to put areas into local lockdowns earlier in the autumn.
But the worst may be over – although how to make inroads into reducing it is the next challenge.
Independent statistician Jamie Jenkins, who was formerly with the Office for National Statistics (ONS), said we were starting to see the positivity rate stalling and beginning to come down in some areas.
"That's a positive sign, which suggests we are seeing a turning point in the rate of people coming back positive with Covid-19 in the community. We are seeing that in Wales overall, and in Merthyr Tydfil and Rhondda Cynon Taf."
But he said the data over the coming days would prove crucial in identifying whether the end of the lockdown would "light the fire again".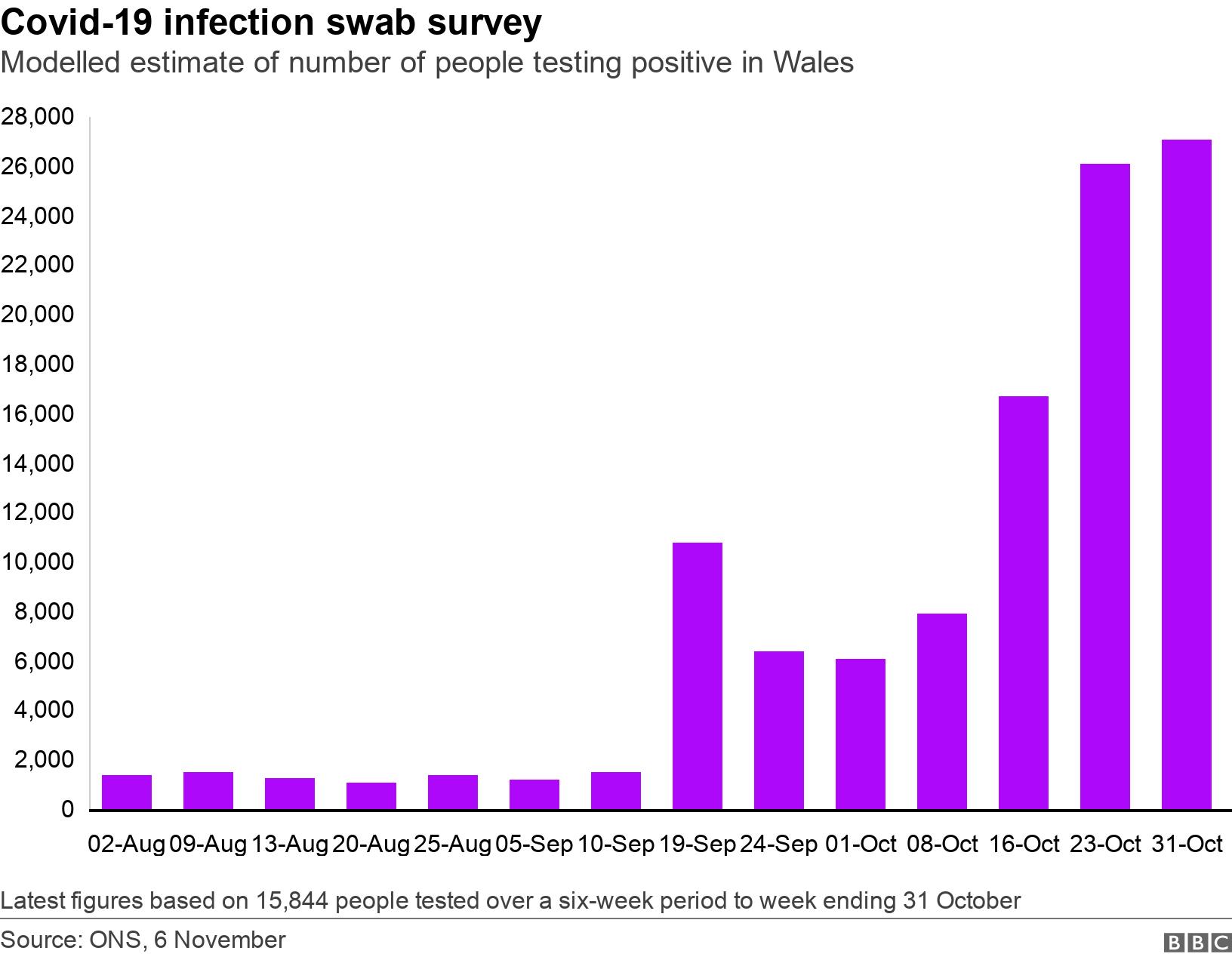 How many people are infected?
There is some good news in that the proportion of people with Covid infections in Wales is rising less sharply, according to the latest survey by the ONS.
It goes out to test thousands of people in Wales, just to see if they have the virus.
Analysis of thousands of swab tests can estimate that 26,100 people in Wales had Covid-19 – about 0.89%, or one in 110 people – in the first week of the firebreak.
This is only 1,000 more than estimated last week, showing the infection seems to have slowed down. The previous week had seen a rise of 9,400.
"Positivity rates in Wales have increased in recent weeks, but the rate of increase is less steep compared with previous weeks," said the ONS.
Over a six-week period, it asked 15,844 people in Wales for nose or throat swabs. It tested the results and found 84 positive results, from 64 people from 50 households.
What about hospital admissions?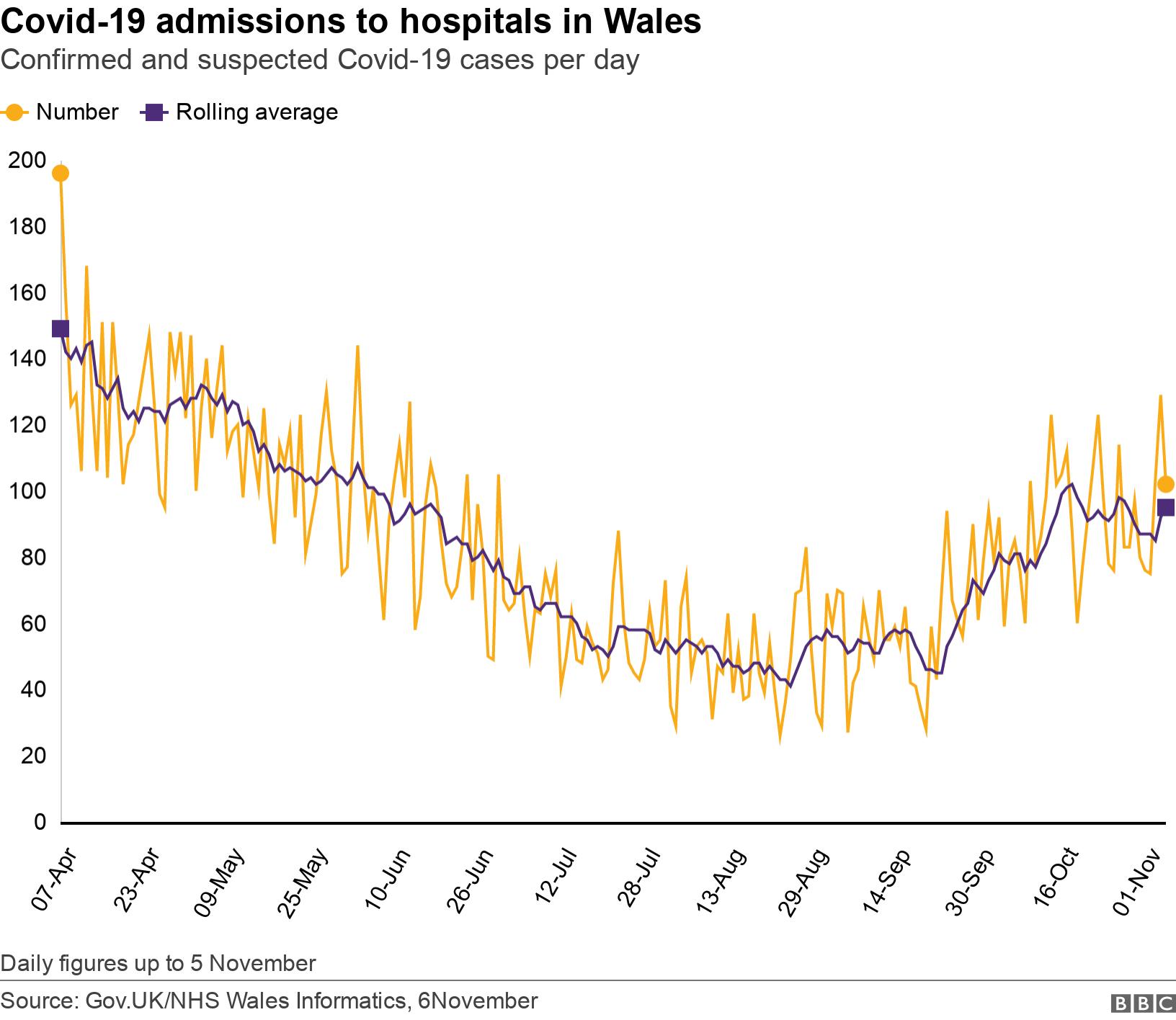 One of the ideas behind the firebreak was to take the edge off hospital admissions.
The daily average of confirmed and suspected Covid-19 admissions is about the same as when the firebreak began.
There were 1,344 patients in hospital with the virus, with 60 in intensive care, according to the latest available figure.
But beyond the statistics, hospital doctors are talking about "immense" pressure already and starting to become overwhelmed with Covid again.
Unlike during the first wave, hospitals are trying to treat as many non-Covid patients as possible, with normal operations continuing.
At the Royal Glamorgan Hospital in Rhondda Cynon Taf, they are seeing Covid presenting on top of other conditions they would expect to deal with.
Nerys Conway, consultant in acute medicine, said: "I can't believe how quickly the second wave has happened and how unwell the patients are, they seem to be sicker this time round than they were last time."


How has the firebreak changed our behaviour?
When we use phones, go on to Facebook or Google, it is possible to see the sort of trips we make, or whether we spend more time at home.
This can help scientists tell whether the measures are working.
So if we look at what Google mobility data tells us, there has been a definite drop in those trips to the shops and for recreation.
Similar dips can be seen in use of public transport and people not travelling to work.
It might seem obvious – but if we did not see that, it would be a signal that the firebreak was failing in its purpose.
What we cannot tell is how different things might have been without the firebreak.
And although some restrictions will ease from Monday, council leaders and health officials are stressing that everyone still has a part to play to help control the virus's spread.